1. Illinois education funding fight not about kids: Illinois Policy Institute – Opinion – Crain's Chicago Business
The fact is Illinois already spends $13,077 per student, more than any other Midwestern state: 37 percent more than Indiana, 32 percent more than Missouri and 17 percent more than Wisconsin.

If critics of education truly wanted more funding for classrooms, they'd push lawmakers to eliminate the many perks that drive up pensions. They'd demand a reduction in the hundreds of overlapping districts and the bureaucracies that run them. And they'd call for moderation in administrator pay.

Instead, they're demanding more from struggling taxpayers, who already pay the highest property taxes in the nation.
2. Illinois ended 2016 with highest black unemployment rate of any state | Illinois Policy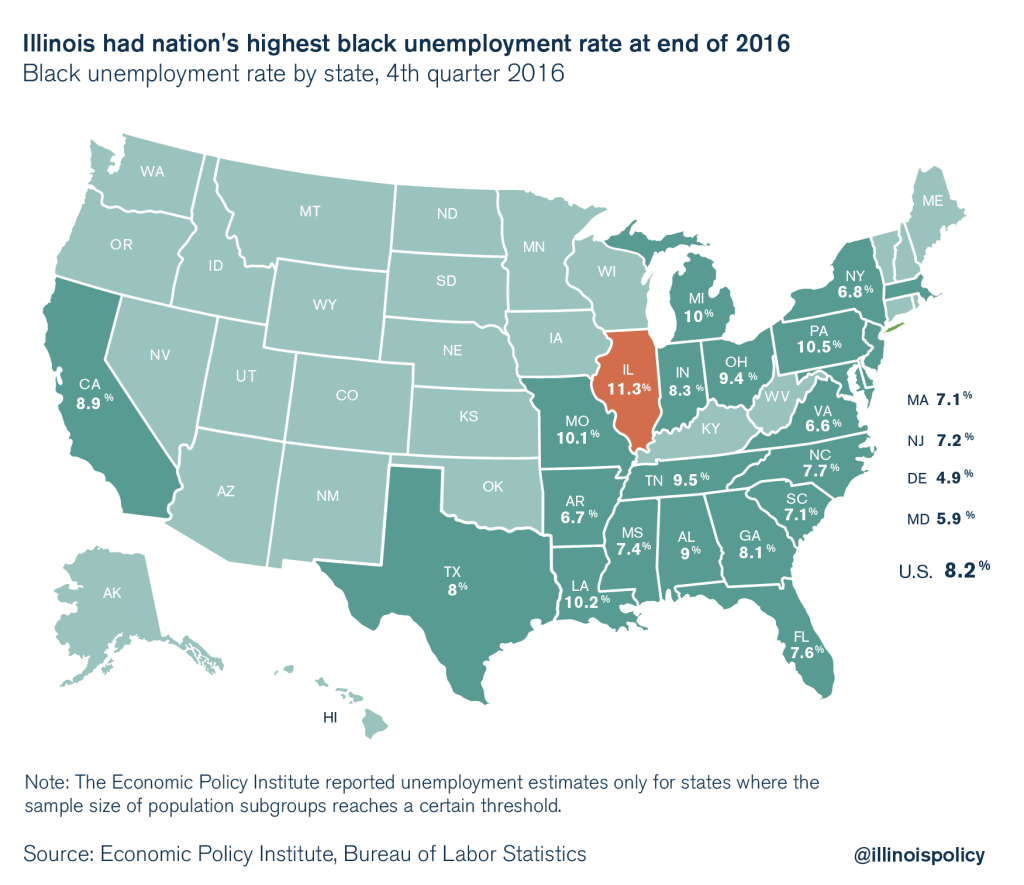 Illinois is still home to the nation's highest black unemployment rate, according to a new analysis from the Economic Policy Institute, or EPI. Illinois' black unemployment rate is 11.3 percent, compared with the next highest state, Pennsylvania, at 10.5 percent. The data represent a reduction in the unemployment rate for Illinois, but also serve as a stark reminder that black people have a harder time finding jobs in Illinois than in any other state in the country.

The Land of Lincoln has had the highest black unemployment rate of any state since the second quarter of 2015. Illinois is a low-growth state, especially for industrial occupations, making it difficult for workers to find rewarding jobs in the local economy.
3. 10 reasons Illinois' 'grand bargain' fails taxpayers | Illinois Policy 
A recent poll by Anzalone Liszt Grove Research says 66 percent of Illinoisans oppose income tax increases. Nearly 50 percent strongly oppose such tax hikes.

That's not only because Illinoisans can't afford another tax hike; it's also because taxpayers know tax hikes won't work. Illinois took in an additional $31 billion over the course of the 2011 income tax hike. Politicians claimed this money would be used to pay down the state's pension debt and unpaid bills and solve the state's fiscal crisis. In 2011, Illinois' unpaid bills totaled $8.5 billion – today, the state has more than $12 billion in unpaid bills. In 2011, Illinois' unfunded pension debt was $82.9 billion. Today, it's more than $130 billion
4. Journalists Demand Access, but Sometimes They're Selective – WSJ
The national press was outraged after reporters from CNN, the New York Times, Politico, BuzzFeed and the Los Angeles Times were kept out of an off-camera White House press briefing last week. . . . . Their concerns are valid: Government officials can silence critics by picking and choosing who gets access. But few have noted that the Trump administration's actions are far from unprecedented. . . . . A prime example comes from Illinois. As an attorney for the Liberty Justice Center, I represented a veteran journalist who was denied statehouse press credentials in Springfield.

Scott Reeder . . .  spent the first 20 years of his career at newspapers in Texas, Nevada and Illinois, racking up journalism awards along the way. He became a well-known fixture in the Illinois Capitol. Then he decided to start a statehouse news service to keep doing the same work he had always done. Joining with the Illinois Policy Institute, a government watchdog organization, Mr. Reeder planned to launch his new venture in 2013.

But when he applied for statehouse press credentials, Mr. Reeder got the cold shoulder from lawmakers who decide which outlets can cover them. Mr. Reeder was a tough reporter, ruffling feathers of politicians on both sides of the aisle—as journalists should—and his application was denied because of his association with the institute.

Officials determined that under the legislature's rules Mr. Reeder was no longer entitled to a pass because the institute was registered as a lobbyist and wasn't "primarily" engaged in news reporting. . . .  [But] the Chicago Tribune had no trouble getting credentials when its then-owner, the Tribune Co., hired a firm to lobby on its behalf and operated businesses unrelated to news, such as the Chicago Cubs. . . . .

As for Mr. Reeder, he got little support from fellow reporters. Some even published articles attempting to delegitimize his work because he was no longer employed by a legacy media outlet.  . . . .

Here's to hoping the media will continue to advocate equal access, just as forcefully as they are now [in the recent Trump administration controversy], for journalists of all stripes covering all levels of government.
From a discussion of school matters by a panel of state legislators and a parent committee, at Oak Park's Percy Julian middle school, Oct. 9, 2013, in Chapter 8, "Legislators go to school":